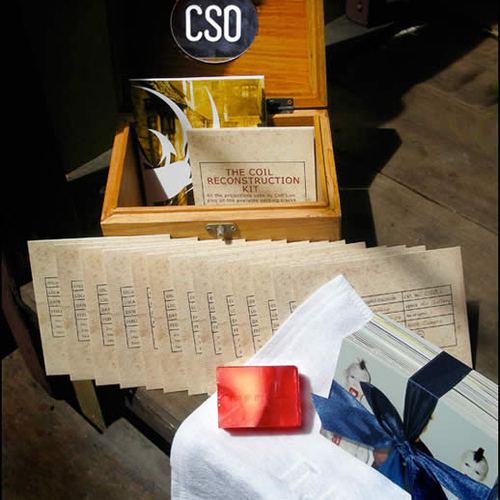 Colour Sound Oblivion Box Set: Open Edition
| Format | Price | Buy |
| --- | --- | --- |
| Colour Sound Oblivion Box Set: Open Edition | £199.00 | |
Sorry, Colour Sound Oblivion Box Set: Open Edition is out of stock.
Description
Coil - Colour Sound Oblivion Box Set: Open Edition
The Open Edition of Colour Sound Oblivion is now available. The only differences from the Advance Edition are that the 4 Costume Fabric bags (which were a nightmare ,-) have been replaced by a white Face Cloth embroidered in white with Coil's Final Lyric IT JUST IS, as well as a bar of semi-transparent fragrant handmade soap suffused with blood red colour with IT'S IN MY BLOOD stamped on it. (It's not really my blood, obviously! and each bar is slightly different in its red streaking.)
Also the go-go-bar-style numbered disc/badge has been replaced by a handsome mirrored disc with CSO engraved in white, rather than a number. Needles to say the Open edition is not Limited but OPEN!
The price of the Open Edition will remain the same as the Advance Edition £199, plus shipping by UPS
Please note: We are now shipping from the UK, and the package is expensive to send at 3.5kg
However we have no control over, and you will be responsible for any import duties or so-called VAT, should your countries customs still decide to charge something.
Also please provide a DAYTIME shipping address and telephone number. We cannot be responsible for couriering the box a SECOND time around the world, should you not be available or willing to receive the delivery. We will send you a tracking number, tracking website details, as well as contact details for the delivery companies in major countries, who you should contact, if the box is not delivered within a week of the tracking website showing your package has arrived in your country.
These are ready to ship now.
**This has special postage bands. If you'd like to order something else from the store, please place a separate order**
SOME REACTIONS TO COLOUR SOUND OBLIVION:
"The beautiful wooden box of dvds which you sent me arrived this morning, Thank you ever so much. It is without a doubt the most luxurious, comprehensive and imaginative dvd package I have ever seen. I can't begin to imagine how much work it must have been both physically and emotionally.
Thank you so much for offering me the opportunity to be involved with Coil. My contributions were relatively small in comparison to the profound impact that the experience has had on me, an influence which has been far greater than I realised at the time.
Very Best Wishes
Love
Mike
"Box well received and it is Magnificent.
I've purchased a lot of special or limited edition boxes of all sorts over the last few years (Japanese mini LP's, special LP boxes, DVD collections, entire discopgraphies on CD neatly wrapped in nicely designed boxes including loads of extra stuff & gadgets & gizmo's and so on..) but this one beats them all. By far the most beautiful I own now. Well worth the waiting. Extremely well worth its price!
Gonna enjoy this for a long time."
Jurgen
"I wish there were words to describe how wonderful I find this package. I never had a chance to see Coil live, but (mostly thanks to DJ Leslie in Ottawa) I have had some of the most powerful altered experiences of my life to Coil, and generally just really loved the music at all times."
SquidPants
"It´s been quite an emotional experience for me going through it´s contents, so I cant even begin to understand how it must have been for you, putting the whole thing together and all , and being part of it for real."
André
"It's overwhelming, such a tribute and a totem of more than half of my feeble life.
'Thank You For The Musick'."
p6
"You can be immensely proud of bookending the mighty Coil legacy with this stunning artefact, Peter.
With my deepest respect,
Grant"
DUE TO THE SIZE WEIGHT, HIGH VALUE AND LIMITED NATURE THIS ITEM IS SHIPPED BY SECURE INSURED INTERNATIONAL COURIER:
PLEASE PROVIDE A DELIVERY ADDRESS WHERE YOU ARE GUARANTEED TO BE.